American military transmitters in Hoek van Holland

De antennes in Hoek van Holland staan er al zo lang ik mij kan herinneren. Al vanaf mijn zevende jaar is mij de mysterieuze installatie opgevallen. Nu gaat de gemeente hem slopen. Hij diende voor het militaire radioverkeer tussen Washington en Wiesbaden.
---
Introduction
Wednesday 6 September 2000 we explored the German bunkers in Hoek van Holland. And during this expo we stumbled upon the American military transmitters. They can hardly be overlooked. The antennae are a well-known landmark of Hoek van Holland. Large conspicuous (6-8m) dish-antenna's along the coast. They were active during the cold-war but now they're abandoned. When I was 8 years old I already looked at them in wonder. What were those mysterious installations doing here ?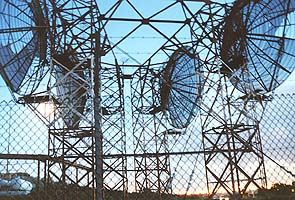 We never thought we could get inside. I took this picture in the fading daylight, never expecting to see the other side of the fence. We passed by the area looking for more German bunkers. But everything in this area is either bricked-shut or welded-shut. See the bunkers story.
Getting inside
Ben discovers a section of wire-fence where the barbed wire has been removed from the top. It's the section just left of the gate. He climbs over and disappears in the background. I'm too chicken and decide to make some pictures of the antenna's from the outside.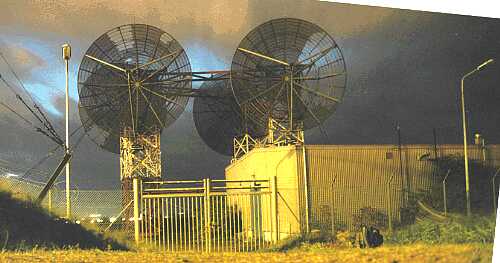 It's completely dark by now and the picture will take 1 minute of exposure time. I don't have a tripod with me so I have to improvise a stable set-up using my flashlight, wallet and lens-cap. But then I have to lie down on the road to see anything through the viewer. But where is Ben and what's keeping him so long? Finally Ben reappears and says: "I saw you lying on your belly on the road and I thought you were hiding from someone. So I decided to hide too."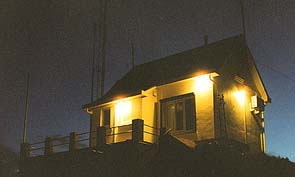 The pictures turned out very well. It's 2-3 minutes of exposure time. The "northern lights" effect are probably the last traces of the sunset. They were invisible with the naked eye. You can see my backpack on the right of the picture.
The artificial light comes from the three lamps of this mysterious "house on the hill". It's surrounded by modern antenna's and is probably full of operational equipment. I've never seen anyone inside. The windows are covered by blinds on the inside and nowhere is a crack through which you could peek inside.
Military environment
Ben says: "Come on, the door is open and there are generators and switchboards inside. This fence is easy, especially for a climber like you". I climb the fence, hide my backpack in the bushes and follow Ben inside. It's great! It's immediately clear that this was an American installation. A lot of typically American warnings in the style of "Don't sue me, I've warned you".
ARMY CRIME WATCH - WARNING

All items of value on these premises have been marked

for ready identification by law enforcement agencies.

ARMY OPERATION IDENTIFICATION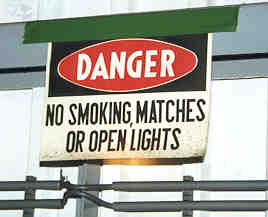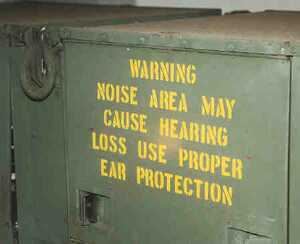 All the remaining machinery is labelled "military specifications" and "US Department of Defence". I remember the kinds of labels from the time I scavenged army surplus stores for transmitter parts and measuring equipment.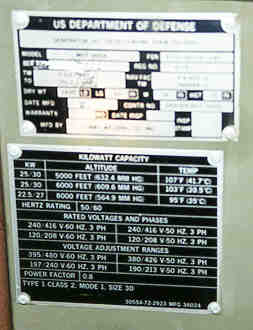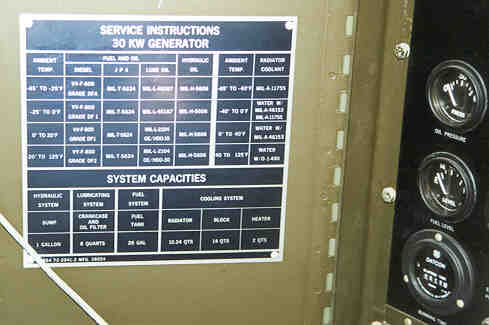 There was no lock on any door. Everything that was left was simply too heavy to steal. No keys in the key-box. Simple rooms, a desk, a small kitchen and a shower / toilet room. We scavenged all the floors, corners and drawers but found no trace of the inhabitants. By this time we had a strong "James Bond" feeling. The wind was blowing outside and the sheet-metal building was making a lot of "here they come to arrest us" noises. It was spooky.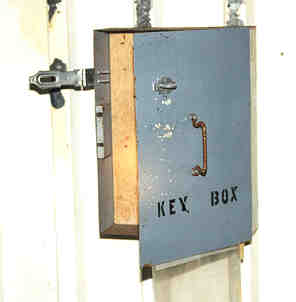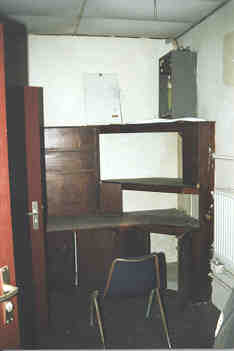 As expected we don't find any manuals or logbooks. Only a rough schematic showing the places where the transmitters and receivers once stood. A switch reads "54 kW", that's a lot of transmission-power. The only remaining machinery is a diesel generator and two huge battery-powered uninterruptible power-supplies. We try to discover more clues, but everything is empty. We only find a manual for a "Whirlpool" washing machine from 1981 - it includes a coupon that gives a 75c reduction on "Tide, America's favourite". Does that washing powder still exist?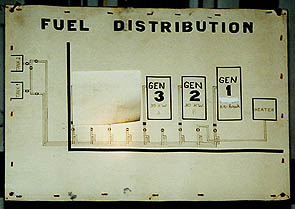 The staff even left a schematic. But it's only a rough one. I suppose the heater was meant for the diesel fuel.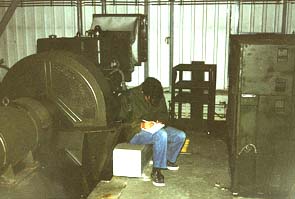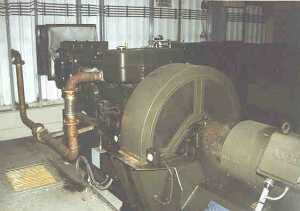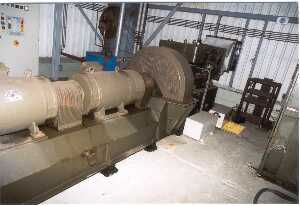 Ben is taking notes sitting on generators NR 1. Generator NR. 2 is on the right.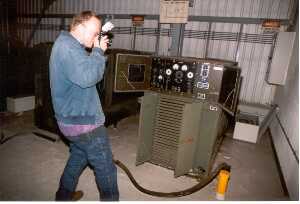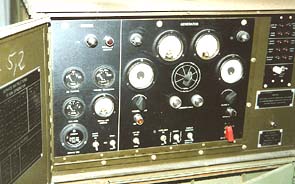 Taking a picture of generator NR. 3. Here it looks all well-lit. But that's the flash. In reality it was pitch dark inside.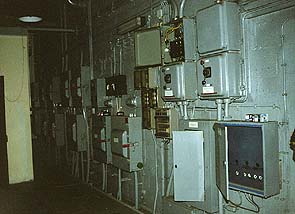 This massive wall of switches was very impressive. Ben turned one of the switches and made me jump. There were a lot of old ceramic fuses but I forgot to take one as a souvenir.
All the while I feel like a spy must feel. The next day I tell the story to a colleague who lives in Hoek van Holland. He tells me that the whole bunker-area is still formally military terrain. And especially that the antenna terrain is still formally classified. But he also told me that he visited the site while it was still in operation. How? "I have my connections in town." It was a radar station and a communication centre for the American navy.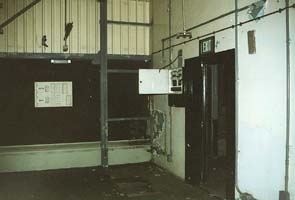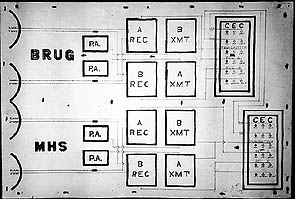 Finally the eerie sounds made us nervous and we left the premises. Of course there was no one outside. By that time we were courageous enough to make pictures outside with a photo-flashlight. We must have been noticed for miles around.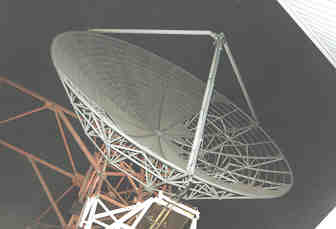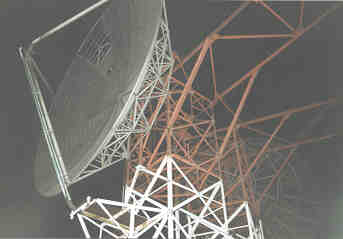 Ben also climbed one of the antenna's. He's somewhere in the picture on the right, but you can't see him. It will be a pity when these nice dishes disappear from the landscape. I suppose they will build some dumb functional building instead.
Your reactions ! - Thanks !
Peter - I was browsing the Internet - looking for military folks stationed in the same place/time as I was in Europe. I searching for Hoek van Holland and ran across your web page...I was SURE surprised at what I found. I was a young 21 year old - stationed at this relay site from 1981-1982. I very fond memories of the times I spent there in the town of Hoek. - I have been wondering over the years what had become of that site - and you have confirmed my suspicions.... WOW - do those pictures bring back memories... - The site was part of the US Army 128th Signal Company. We had 8 folks stationed there... most lived in rented apartments about 1km away - next to a discotech - we could walk to work... but I had a "broomer"/moped. The site had four 1000watt transmitters running at 4GHZ as a telephone relay between an Army base at Bruggen, Germany (BRUG) and another US Army site at Menwith Hill Station (MHS) in the UK. The folks in town thought we were listening in on their phone calls - NOT... just a troposcatter microwave relay station. But it made for good stories at the local bars. - It is really said to hear that it will be torn down... - I see the generators are still there - man I hated checking the oil - worse when we had to run them... could not hear anything... - Maybe your friend w/ connections in town was the same high-school kid that lived in back of the apartments I lived in... :) - Yes - TIDE laundry soap is still a major market item here in the USA. - BTW: If it was not for my duties in Hoek - I would not have married my wife ( she was stationed in Brussels - and we road the train back and forth on our days off )... and I would not be a Network Engineer for a major Oil company today !!!... - Thanks for posting the info - it really put some closure in my life ! - Rick R. Fell
Petr, My name is Ed and I just happened to find your site about the antenna's. I was searching for anything on Hoek Van Holland and of course this caught my eye as I spent over 2 years there 1968-70. Please email me if you are still at this email address and I will be glad to fill you in about some of the history of these "dishes". Thanks Ed
On another of your pages, talking about an american military installation, you mention a 'washing powder' (Tide I think) and ask if it still exists. It does, and is widely sold. Ben Brockert
Hi, In your web page you have some pictures of a diesel generator in the antenna station. Well, I'm in the U.S. Military and I work with those generators occasionally. They're still used. Anyway, I got a kick out of seeing your site. The signs that say "ARMY CRIME WATCH - WARNING" posted everywhere on a military base. (Mason Reams)
Hi - and my sincere compliments on your initiative and creativity in hosting such a great site re the mysterious antennae on the hill at the Hoek.Our family lived almost opposite this structure during 1965. It is quite a landmark.

I was just a young boy of 11 and the place held great fascination for me. Our family of 5 lived above the long defunct frites winkel (chips met mayonnaise..zonder of met?) for around 9 months.The street name which I'll never forget is the Strandweg. At the time I often mistakenly pronounced this strondweg - only a small error but a significant change in meaning from Beach Road to Sxxx Road. (I'm English) We lived at number Strandweg 22.

On my last visit at aged 19 in the early seventies the Chip Shop had become Sgt.Peppers Lonely Hearts Club and was full of just mattresses - I am told.

Our Grandparents- both Dutch - lived at No.3 Scheepvaart Straat. I attended the I.P Calandschool (ULO) 50metres from the doorstep. Both my mother and my Grandmother (Oma) used to be casually employed by several US personnel in weekly cleanups of the rented homes Rick Fell speaks of. My mother recollects that an unexpected bonus was the Monday cleanup when surplus liquours would sometimes be sipped from the Service guys drinks cupboard by both her and my Grandmother! (the Guys did'nt mind)

At the time the Antennae on the Hill was known to be a US military installation and it did often puzzle us kids what went on below the House - we had never seen staff entering or leaving via the 'house' so there were obviously other ways in - which you have now discovered ! - All the best..Leon Wreyford,Perth Australia

I stumbled across you website and was surprised to find your comments and pictures about this US Army installation. I was not stationed at this location, but at a similar radio station in Germany. This station was also named after the closest town - Stein Neukirch. Our radio shoot went from Feldburg, Germany to Stein to Bruggen, Belgium and then to Hoek Van Holland. I was stationed there in 1980 and 1981. If you are ever in Germany, you might find the town of Stein Neukirch and see if my old radio station is still on the hill overlooking the town. Thanks for the memories... Terry Allan
---
Back to: Deserted Buildings, Urban Adventure Home
© 2001 Petr Kazil - 23 February 2001 - Do you know any military installations in The Netherlands ? Ones that are accessible ? Mail me at (obfuscated) kazil a.t euronet d.o.t nl