Wilton-Feijenoord Wharf - Karel Doormanweg
---
Dan Armstrong and I parked the car at the building site of the second Benelux tunnel. Walking along the former Vijfsluizerhaven (it's been filled up now for the construction of the second Benelux-tunnel) we looked through the fence of the Wilton-Feijenoord wharf. It would have been easy to walk around the fence and enter the wharf, but it was late and already getting dark. We admired the large mass of the "Stanislaw Yudin" from Kaliningrad (Russia). We had no idea what kind of ship it was.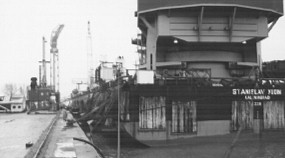 I found a white builders helmet there. I was muddy and dirty and I had to scrub it thoroughly before I dared to put it on. But it looks professional and I've used it as a disguise already.
Dan has a nice word for this: "the obtainium". What's the obtanium? It's the place where you obtain things.
---
Go to: Abandoned buildings, Urban Adventure Home
© 1999 Petr Kazil - 31 January 1999