| | |
| --- | --- |
| | Hanno Goods Terminal - Katendrecht |
---
On 26 September 1998 Kaspar and I visited the deserted buildings of "Hanno" at the end of Katendrecht (Basaltstraat, Harbour 1300). They will start building appartment buildings here in 1999. Sunny weather. Beautiful views across the river and the harbours. In the background (not visible in the scanned photograph) you could see the windmill of Delfshaven spinning slowly. (Yes, the place the Pilgrim Fathers started from. It's on the other side of the river.)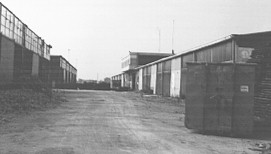 They were many empty store-houses. One was already half-demolished, the whole roof lay in pieces on the floor.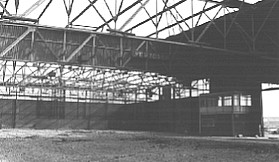 Romantic names were written on the walls of the storehouse. I've got no idea what it all meant, but it sounds far away, hot and spicy:
Brega SOC - Pier 9
Brega NOC Marsa - Pier 11
Tripoli - Pier 15
Ras Lanuf - Pier 17
Benghazi - Pier 21
HMT Nigeria - Pier 23.
The quay was full of harbor machinery: old cranes, container-cranes, container-trucks. You can see the shadow and the reflection of a crane on the wall of the building.
I could have gone up the stairs in one of the buildings but I had Kaspar with me and I didn't want to take risks. I was not afraid of collapsing roofs or floors but of meeting strange people. You're much more vulnerable with a child.
We saw several high light-masts there (3-4 floors high) with a ladder and a platform on top. On the 4th of October I climbed these with Dennis and Patrick (see the buildering-chapter). I also took several pictures of the view from the light-mast (see the views-chapter).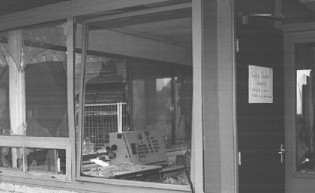 The porters lodge at the entrance of the terminal site (Harbour 1307) had been sadly demolished. All the windows broken and the floors full of broken glass. I found telephone books and computer manuals on the floor and these I left there. Scanned the map of the place.

I also found a log-book and I took some pages with me. Here are some quotes:
5/9/97 23:45 Start of shift. Closed fences. Closed canteen door. Closed dressing room. Made the round. No reefers. No ships along the quay. Came back at 0:35.
5/9/97 2:50 Taxi "St. Job" came in to take the pilot from the ship the "Hedlo". Left at 3:20.
6/9/97 8:50 Mr. van Leeuwen arrived for the ship "Anna" in a Mercedes LT-BJ-41. Left after 2 minutes.
6/9/97 9:00 Police came in. Left immediately. They had the wrong adress, they were bound for the Hanno Fertilizer Terminal at the Waalhaven.
20/11/97 0:50 Padlock nr. 6 won't close. Has not been lubricated yet. Checked the reefers. (Reefer = container with built in refrigerating unit)
20/11/97 5:40 Opened canteen and washing place.
20/11/97 7:45 End of shift.
22/11/97 17:13 Atlantic Crusader has boarded at poles 53 - 64
23/11/97 13:10 Albers Transport B.V. came in for the Atlantic Crusader. They left at 16:00.
23/11/97 18:15 Cleaning lady in.
Etcetera. If you've read to this point my congratulations. You are boredom-resistant. (Still, it gives a bit of insight in what went on here.)
Now, sadly, all the buildings have gone and the whole place has been razed and flattened. They will build appartment blocks in this place.
---
Go to: List of abandoned buildings, Home
© 1999 Petr Kazil - 22 January 1999