Bunnik - Fortress "Vechten"
---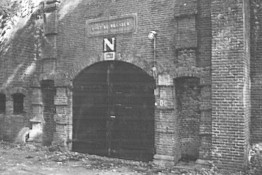 Sunday 27 September 1998 was the last weekend of the "fortress month". I visited the fortress "Vechten" near Utrecht. The name is still legible above the official entrance.
The fortress was built in the period 1867-1870. It housed 623 soldiers and 83 cannons.
It is overgrown with trees and plants now. Beautiful autumn weather, acorns, chestnuts, blackberries, hazelnuts.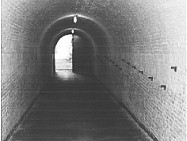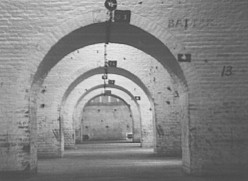 One underground building was open to the public. This was building H, the "reverse battery". It housed 82 men and a kitchen. Long brick tunnels, small windows.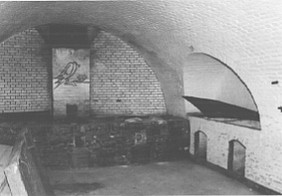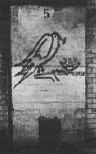 A primitive (wood-stove) kitchen. And old graffiti made by the soldiers. How symbolic, a bird feeding it's young.
The wood of one of the doors (10 cm thick) to other buildings had rotted and the lock had dropped off. The window to another building was open. I could have got in easily because there was only one guard. I didn't because I had two boys with me (7 and 9) and I didn't want to take risks with them. But I told them: "Please notice these opportunities. If you had been a little older we would have gone inside". As a parent you have to give a good example ...
---
Go to: List of abandoned buildings, Home
© 1998 Petr Kazil - 6 December 1998