The Dintelhaven bridge
---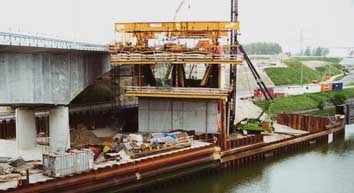 One half of the bridge is finished and in use. - The other half is still under construction.
Intro - 3 May 2000 I got a guided tour in a cable-tunnel under the river. On the way to this tunnel we passed the Dintelhaven bridge and I decided to inspect it. A few weeks later I went on an expo with Ben and Iris. We found out that the Dintelhaven-brug is hollow, and we were able to walk through it from one side of the water to the other, 192 meters of dark, high, concrete cavity! The other bridge is also hollow and accessible. The echo is phenomenal.

Under the finished bridge. The bridge on the right is half-finished.
We started the tour by walking up a wooden staircase at the southern end of the tunnel. From here there's a nice view under the bridges. Everything was deserted. Only twice a car drove by under the bridge. Most of the traffic passed overhead, but they couldn't see us. The fence was only symbolic. We inspected the foundations of the pillars, but they were not very spectacular.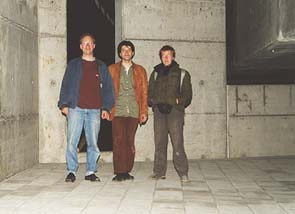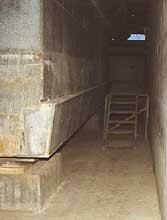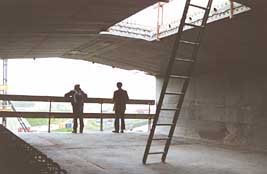 Happy explorers. From left to right: Petr, Ben and Iris. - The entrance. - View from half-finished bridge.
At the top of the stairs we found an entrance into the unfinished tunnel. We could see the light at the other end. I was very afraid of holes in the floor of the tunel. There were several, but they were all covered, or protected by a fence. Still it was spooky to look through the floor and to imagine an unexpected fall. we climbed up the ladder towards the future road-surface.

On top of the half-finished bridge. - The foundations of the old bridge.
From here we had a nice view of the oil-refineries the wind-turbines and the harbour. The remains of the old bridge were enticing - notice the ladders - but we had no time to explore them. We also found the entrance to the other, finished, bridge and we walked to the other side of the river. All the times trucks and cars passed overhead. It was a succesfull expedition. Strange that everything was so accessible ...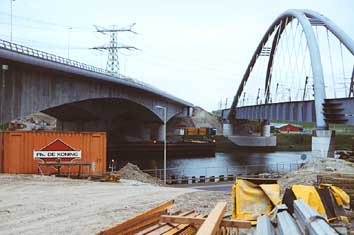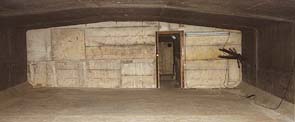 The finished car bridge and railway bridge. - The entrance from inside.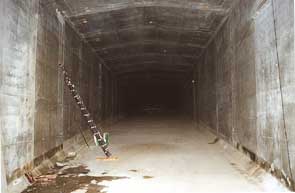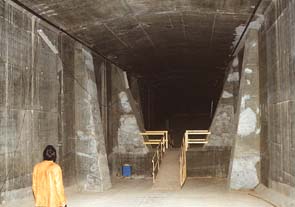 Inside the finished car bridge. Ladders (too short). - Ben admiring the darkness.
---
Back to: Underground Rotterdam, Urban Adventure Home
© 2000 Petr Kazil - 5 October 2000 - Would you like to do this too ? Or is it too dangerous ? Mail me at (obfuscated) kazil a.t euronet d.o.t nl