Etzweiler - A modern German ghost town

Saturday 2 February 2002 we visited Germany and I caught a heavy cold in the gale force wind and rain. But it was certainly worth it. It was an experience like no other. Never before have I felt such a melancholy atmosphere - it could only be compared to the deserted mine of La Cheratte. We arrived here at the parking lot and immediately saw the abandoned church.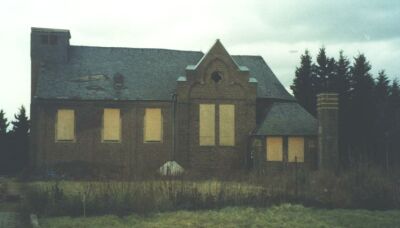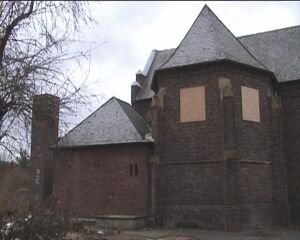 The town of Etzweiler is almost depopulated. It will disappear in 2006 when it will be swallowed by the encroaching strip mines. The area between Aachen and Koeln is full of coal. It powers the gigantic power stations that sell electricity all over Europe. The whole landscape is going up in smoke. It is rumoured that we buy this current as ecological - "green" - current, because the landscape will eventually be restored to it's original shape. But in the meantime huge ecological damage is being done - especially by the lowering of the ground water level. We had to see this for ourselves and we assembled a team of explorers from all over the Netherlands.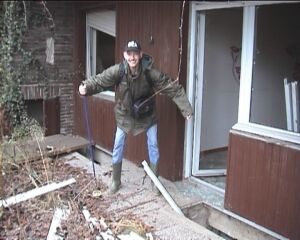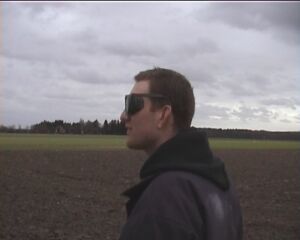 A ski pole and toy sunglasses
When the mine is enlarged some small towns will fall as "collateral damage". The inhabitants will be compensated and re-settled. On our way to the town we passed by the new housing estates that have been built already. They looked good. But still many inhabitants feel resentful about what they see as an eviction.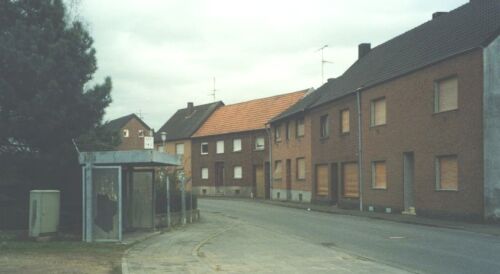 No busses anymore at this bus-stop - A lot of people have sold their houses to the mining company and they have moved out. These traces show when the house was last inhabited. In 1998 the "three kings" (Caspar, Melchior and Balthasar - 19 C+M+B 98 ) gave their blessing to this house. Now it is deserted.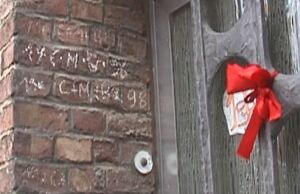 Most houses are still intact although somewhat vandalized already. The village looks as if it has been struck by the plague. We entered several private homes and the bowling alley and school. Dead toys were tragically strewn in the street. Weeds were growing in the gardens.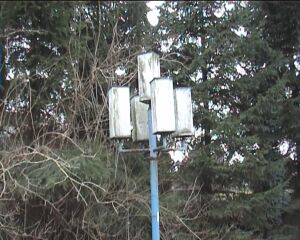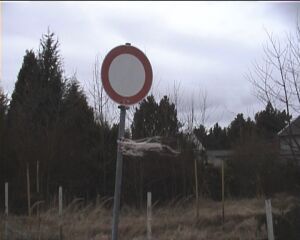 The most tragic part of the village was at the outskirts - here brand new apartment buildings were being demolished and the rest of the landscape looked as if a war had been fought there. Suddenly I remembered a song that I had forgotten for years - "This is the end ... you gentle friend" (by Jim Morrison).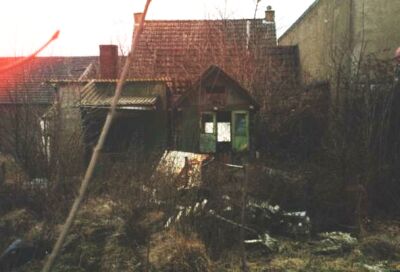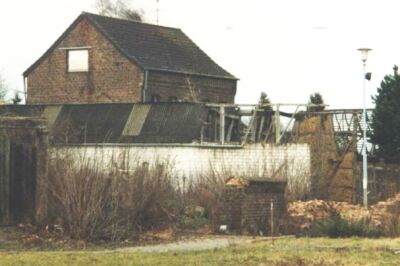 The ruins are beginning to take shape - Some people are taking apart what's left of the buildings. I saw a sign of a "used building materials" store that's willing to take all that's left of the town.

My good Minolta has died after 20 years of good service. So I took all these pictures with my son's small camera. They are bleak and grey. And I didn't enhance them. That's exactly the atmosphere of the town.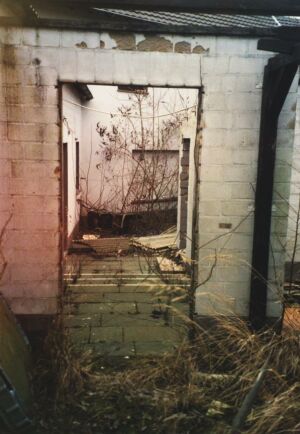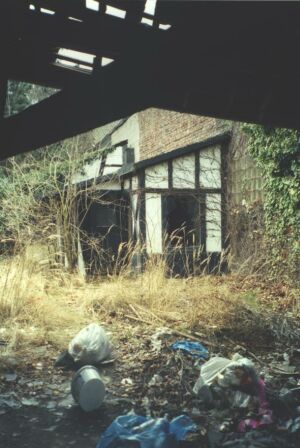 Weeds and small trees are taking over the gardens. Not all the inhabitants have left at the same time. Some gardens are completely overgrown. Others have still some vegetables left in them.
A few months ago this courtyard was full of semi-wild cats. Someone is still feeding them.
There are even some houses where the people still hang on. The curtains are still hanging and there are flowerpots in the windows. That must feel like you're the last living person on earth. I read on several websites that a small group of people is still trying to stop the destruction in court. But they seem to be fighting a losing battle.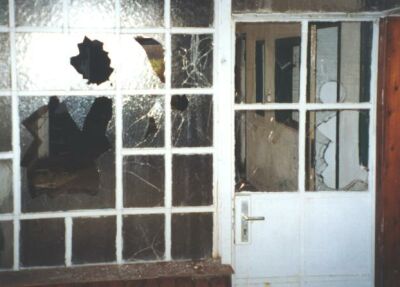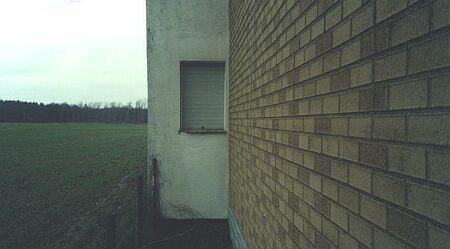 Front and back of the same house - Closed windows / Bare fields - Most houses are vandalized already. We didn't break anything, we just used the holes that others had made before. It was strange to walk through other people's living rooms and bedrooms. It felt quite inappropriate. Like we shouldn't be looking into these people's lives. This was a faded Polaroid we found among the rubbish.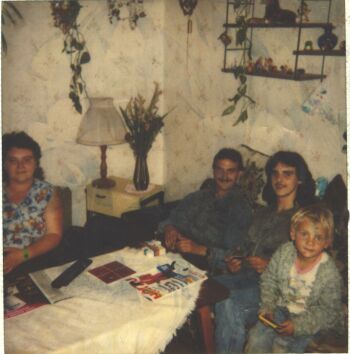 Happy times - Christmas holiday ? Notice the "Hör zu" TV-magazine on the table.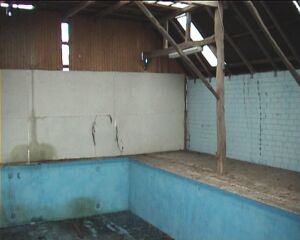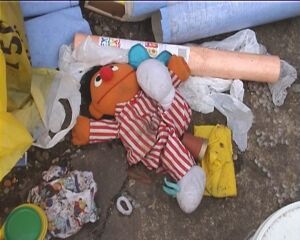 We found deserted swimming pools, ski-poles, lots of trash that people didn't take with them when they left. And letters and family photographs.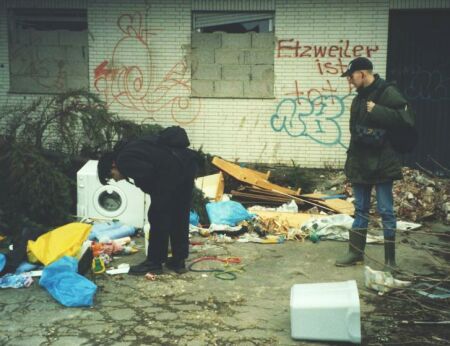 Ben and Fred are examining the dead Ernie-doll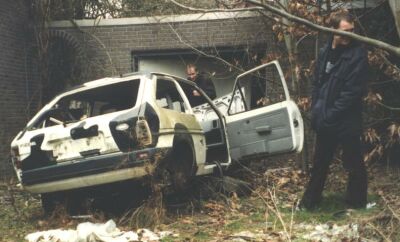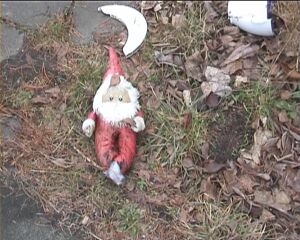 This cow-coloured car would never ride again - And more dead toys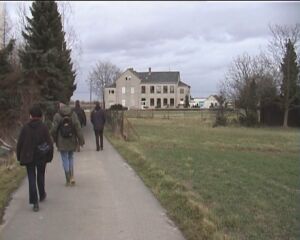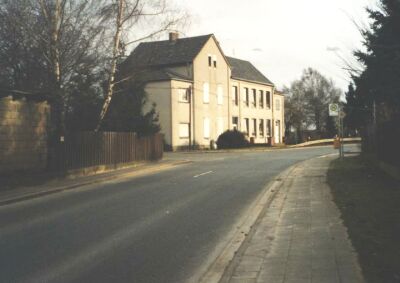 The school building in the rays of the setting sun. No children around here anymore. The windows were all intact. They were made of plastic. On the back-side there was an empty garage of the local firemen. We didn't go inside. We had been on too much private terrain already. And we were tired and hungry.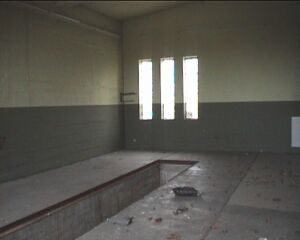 Adding insult to injury - A poster for "natural gas" - "a fossil energy supply with a bright future". What PR-bureau would put up a poster like that in a town that has to die for coal? No wonder that someone tried to tear it down.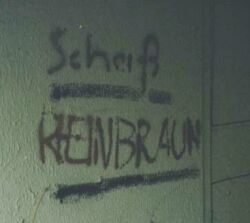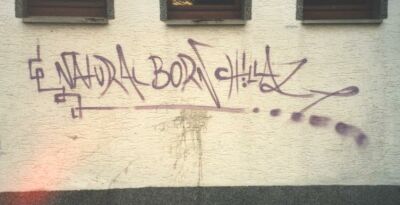 Someone who wants to practice his graffiti skills has a lot of free wall surface in this town. Scheiss Rheinbraun - "Rheinbraun AG" is the company that's digging up the (brown-) coal in the area. Natural Born Chillaz - Calligraphic graffiti - someone who knows how to handle the spray-can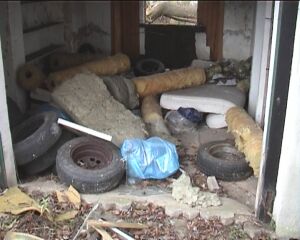 Sometimes the empty houses looked like modern artworks. This installation of old tyres and insulation matting would make an impressive installation in a gallery. And notice the white arc that the swinging door has swept in the dust. I could have filmed it and it would make a good art-video.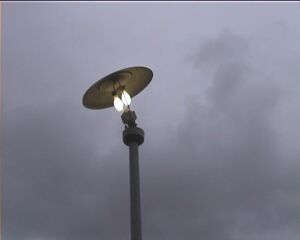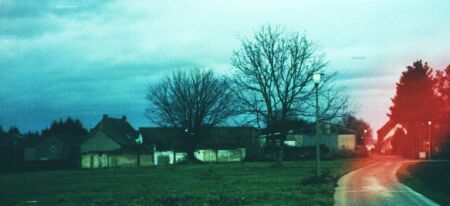 At 16:00 we saw these streetlights. It was surreal - spooklights for a dead town. But most likely the current is still on for the last few inhabitants that haven't left the town.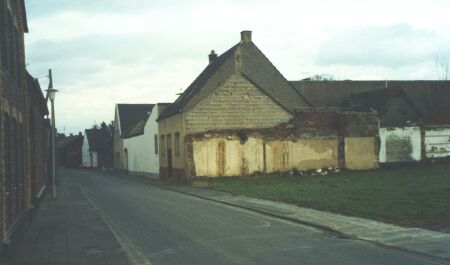 Looking into the street with the church and the bowling alley ... All through the afternoon we didn't meet a single person - although there were some around. We saw people collecting bricks and looking for re-useable building materials. - We looked at the empty bird-feeders in the gardens. But there were a lot of birds around. Maybe they liked the absence of humans.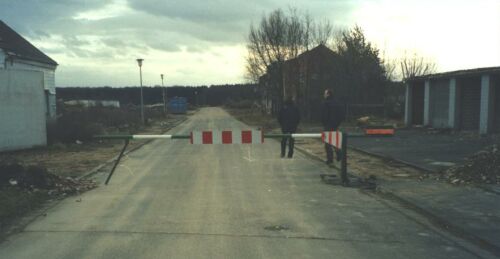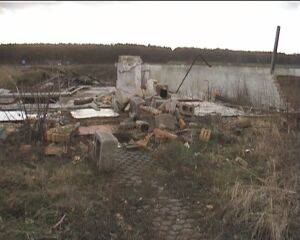 This part of town was being demolished already. Modern apartment buildings - dating from the 80's were being torn down. The roofs had been removed already. Some sheets of plastic were waving in the wind. Gardens were uprooted and all the trees uprooted and heaped along the road. We speculated on camping here in the summer. But we had no idea about the people that visited this place at night.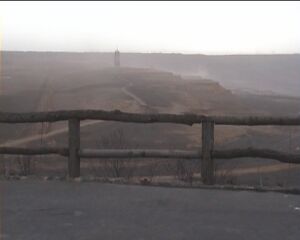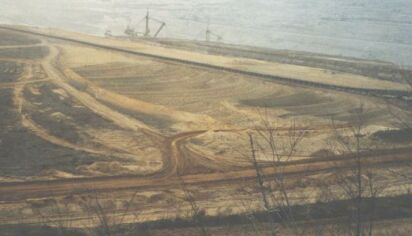 A few kilometres away we saw how this place would look like in a few years. Giant machines eating away at the landscape. A gigantic pit - we couldn't estimate the dimensions, our sense of scale was gone. It looked like the barren landscape of Mars. Maybe Earth will also look like this if global warming continues. Imagine all the CO2 that this coal will spew into the atmosphere.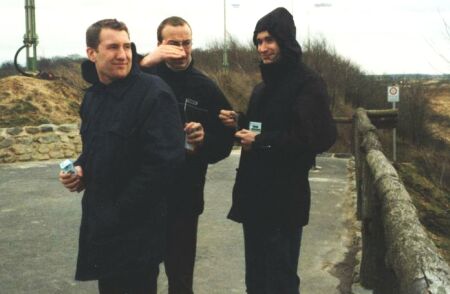 This was an official tourist lookout spot (Aussichtspunkt). From here you cold see the lare strip-mine. The wind blew sand and dust into our faces. It was very unpleasant to stand here. But the sight was worth it. I never saw such a dead landscape. Later we saw another of those pits at night. I will have to return and go down into this strange unearthly terrain. But it's something you would have to do at night.