Mc Donalds billboard - Zoetermeer
---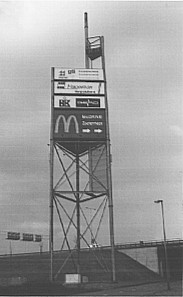 On Saturday 10 October 1998 I met with Dennis and Patrick in Zoetermeer. We had decided to climb the large billboard next to the rails and the car-viaduct.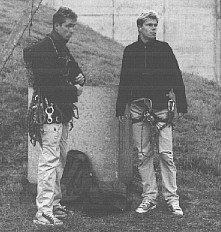 Patrick has the reassuring habit of saying: "What's the address of this place? If something happens, the portable telephone is in the rucksack ... "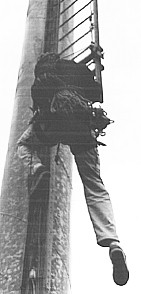 I stayed down all the time but Dennis and Patrick climbed the 6 meters to the bottom of the ladder, then up the ladder to the top (probably 40 meters). My excuse for playing chicken was my lack op rappeling technique. Also I had borrowed my klettersteig-set (for securing ourself on the ladder) to Patrick. So I could not get up safely.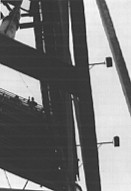 After looking around the inside of the billboard for a while Dennis hung the rope around the railing of one of the inside balconies. Then they rappeled down 35 meters.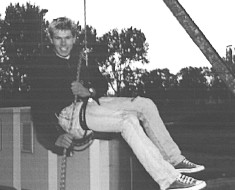 They were both elated when they came down. We packed up our things and went for a cappucino.
The whole adventure was over in 75 minutes. 30 minutes unpacking, preparing and going up. 15 minutes looking around in the billboard. 30 minutes selecting a good place to hang the rope, preparing the rope, abseiling and packing. No one noticed or no one cared. We have to go back, because Patrick had to leave a sling up there. It would be nice to go back and collect it.
We evaluated the billboard-climb and found we had made two errors:
When Dennis and Patrick free-climbed the first few meters to reach the ladder they used a rack that was intended to hold the electric cables. This was not very solid. Had they fallen they would have fallen 2-3 metres onto steel bars and barbed wire. Next time we'll throw a rope over the ladder. Then we will be able to "top-rope" the climbers, and they won't be able to fall.
When Patrick climbed the ladder he clipped his "klettersteig" set to a vertical steel cable alongside the ladder. If he had fallen, he would have made a fall of 5 meters of more. He was using a shock absorber, but it's not sure it would have held him. Next time we will all clip into the rungs of the ladder.
We have a difference of opinion about using an extra prusik-knot for security when rappelling.

It's meant to save you if you let go of the rope by accident. I think it's necessary, but Dennis thinks it gives you a false sense of security and dulls your concentration.

When we pulled down the rope it fell on the barbed wire that was wrapped along the beams of the tower. Immediately it got stuck, but fortunately it was not damaged. With some effort we could retrieve it.

It is difficult to see how we could have avoided this. Once you pull the rope free it becomes an unguided, free falling object.
---
Back to: Buildering, Home
---
© 1998 Petr Kazil - 6 December 1998