A psychogeographic expedition
After Guy Debord, organized by Wilfried Houjebek
Algorithmic walks, new discoveries and dumpster diving.
---
Expo takeoff
Sunday 21 October we were invited for a psychogeographic walk through Rotterdam. It was organised by Wilfried Houjebek (this alias translates into Wilfried "Keep-your-bloody-mouth-shut"). At 15:30 the crowd of 10 psychogeographers was split in 5 two-man teams and each team was handed a description of the route.
We were supposed to follow these instructions and repeat the sequence over and over again. "We all start in this direction, and we will be back here at 17:00", Wilfried pointed down the Witte-de-Withstreet towards the West. We have to turn left immediately. Ben's group heads right, and Tomas' group continues straight on. Wilfried had handed every team a different "algorithm".
Detour - what is psychogeography ? (skip this paragraph to read the rest of the expo)
The word psychogeography was coined by the situationist poet Guy Debord around 1950. It describes the study of the precise laws and specific effects of the geographical environment, whether consciously organised or not, on the emotions and behaviour of individuals.
The sudden change of ambience in a street within the space of a few meters; the evident division of a city into zones of distinct psychic atmospheres; the path of least resistance which is automatically followed in aimless strolls (and which has no relation to the physical contour of the ground); the appealing or repelling character of certain places - these phenomena all fall into the field of psychogeography.
One of the basic situationist practices is the dérive [literally: "drifting"], a technique of rapid passage through varied ambiences. Dérives involve playful-constructive behaviour and awareness of psychogeographical effects, and are thus quite different from the classic notions of journey or stroll.
In a dérive one or more persons during a certain period drop their relations, their work and leisure activities, and all their other usual motives for movement and action, and let themselves be drawn by the attractions of the terrain and the encounters they find there. Chance is a less important factor in this activity than one might think: from a dérive point of view cities have psychogeographical contours, with constant currents, fixed points and vortexes that strongly discourage entry into or exit from certain zones.
For further details on psychogeographic theory and practice see:
Detailed report of our algorithmic drift (skip this long section to jump to the conclusion)
First left - Boomgaardstraat / Van Brakelstraat
Nr 82 - Nice romantic gate. Leads into a hidden communal garden. It's called "Zorg en vlijt" ("Care and diligence") and it was founded in 1876! Never knew this was possible in the centre of Rotterdam! The next hidden garden contains a gigantic birdcage and a wall-painting.
Nr. 248 - The Chinese Church of Rotterdam, Chinese evangelical Mission in Europe. Is this a secret organisation? And what in heavens is "Foundation Dorstluk Vakfi" at the same address? It sounds like aliens in Rotterdam.
Nr. 183 - A large artistic relief showing scenery from Rotterdam and Istanbul.
Each house has a tiny front garden, with a 30cm high stone lion at the door. Ceramic suns and moons above the doors. (One of the other teams contemplated stealing one of the lions, because it was not firmly attached.)
Second right (unsuccessful) - Unnamed alley at parking meter #275 / lamppost #4
We should take the second right from here, but there is only a first right turn. The route ends at a wooden fence at a parking place. We backtrack and skip this entrance.
Second right (successful) - Schiedamsesingel
Second right - Eendrachtstraat
A building with boarded-up windows.
A bar called TRIPITI, with a large neon sign.
Extremely thick concrete pillars along the curb, to prevent parking.
First left - Unnamed alley into parking place (yes, we had been here before)
Second right - We follow the parking place
Second right - Vredesteinlaan (yes, we had been here before)
A romantic alley, inaccessible for cars, with pink housefronts and tiny gardens.
A sign with a Dutch proverb: "The sun also shines through small windows." This is an art-project, you find signs with proverbs all over this area. (One of the other teams tried stealing one of the signs, I don't know if they succeeded.)
We see a dilapidated corner that reminds us of cities in ex-communist Europe.
First left - Schiedamsesingel
Stairs going up under high poplar trees. This looks like Paris or London. A very urban-looking spot.
Second right (unsuccessful) - Unnamed parking place
This doesn't work. We should take the second right here, but again there is only a first right. We try a path through the bushes, but there is no real path there. This doesn't feel right. If we can take any imaginary path we like, then the algorithm loses it's compelling "deconstructive" power. So we decide to skip this one, we backtrack, and we take the next real road to the right.
Second right (successful) - Across the Schiedamsevest, Pierre Baylestraat
We cross the path of another team of psychogeographers. They have brought beer with them! What I good idea, I wish I had thought of that! They really want to go up onto the Schiedamsevest-dyke, but they see a narrow footpath through the grass. They don't really want to go there - the other direction looks more promising - but they decide to follow their algorithm blindly.
Someone has written on a wall: "A.C. is my name but you can call Satan" (sic). We ponder this statement. Has this person forgotten the word "me" like in: "but you can call ME Satan", of does he mean that you should make a telephone call to hell, like in: "go to hell"?
Second right - Baan
We pass empty offices. Plastic flowers. A poster explaining "sound gestures", whatever that may be ...
First left (unsuccessful) - Unnamed parking garage (GGD)
A small wooden cabin with big sacs of stuff. A sign: "Unauthorised access forbidden".
A bum has made his sleeping place here, there is pile of stuff, an old chair. He (?) has written "Please keep off" on the wall with white chalk.
There is a small unkempt garden behind a wire fence. A nice maple tree.
Small detour, exploration and dumpster diving
Now that we're here we explore a bit. The place looks temporarily deserted, maybe it's under reconstruction.
We take the external fire-stairs towards the 6th floor. Here we could climb onto an emergency ladder and climb up onto the roof! Something for next time! We see dusty computers inside. I take a picture of the unusual city-view.
Small stairs going down into no basement. Sign: "This parking-space reserved for the sampling-bus."
A light rain starts. We watch the falling poplar leaves.
My team-mate has found a garbage container belonging to the offices. He looks inside and calls me. He shows me rather disgusting photographs of a tin of beans with something like a dead mouse inside. Ah, these are the offices of the urban sanitary service! We dig deeper. I find old postcards, and a summons for some unhygienic offender, with full name and address. This is highly sensitive, personal information! I must publish it on the Internet!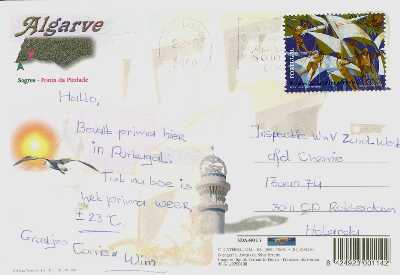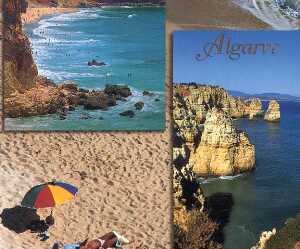 Inspectie W&V Zuidwest, Afdeling Chemie, Baan 74, 3011 CD, Rotterdam - Corrie and Wim have a nice time in Portugal. Weather is fine and it's 23 degrees Celsius. This is somewhat personal, but still innocent information.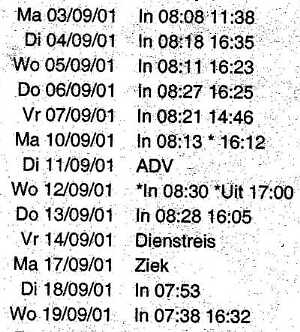 It gets worse when we find the time sheet of one employee - whose name I know, but I won't publish it. It states the times when he came to the office, left office, was on business travel, had a day off, or was ill. The asterisks show when he forgot to register the time.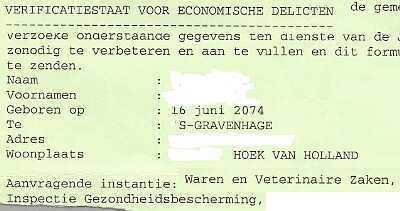 But this is a real shame. Here I have all the personal data of one of the clients, who may be suspected of some unhygienic crime or financial fraud. I have removed all the personal data but one. If you look at the birth-date you will see that they still have a Y2K problem in their computer systems.
First left (successful) - Unnamed stairs next to parking meter #031 / lamppost #23 - Vasteland
A bum is sleeping in a doorway, behind a cardboard box. I really want to photograph him, but I'm afraid that the sound of the shutter will wake him- and then I would have felt like an intruder in his personal space.
Another sign with a proverb: "Sometimes it can be necessary to light a candle for the devil".
We bump into yet another team of psychogeographers as they leave a pub. They tell us: "This expedition is a huge success. We have discovered several new pubs that we had never seen before!".
We go up the stairs onto the Vasteland, and we cross this busy street.
Second right - Zalmhaven
A lot of parking spaces, garages and the backdoors of "Schmidt", the big fish merchant. A very uninteresting area.
Second right - Scheepstimmermanslan / Eendrachtsweg
We look down one of the busiest crossings of Rotterdam.
It's 16:45. We decide to quit the algorithm and to go straight to the starting place. We're very curious about the stories of the other teams.
On the way back - Westersingel
Again we pass a lot of curious offices like "Ducom Computer Systems" or "Banco Pastor - Representacion - Suene el timbre por favor".
More suspect-looking banks, several of them look closed forever.
We find another fire-stairs at the "Stichting Jeugdzorg" and from the 5th floor we look at the city. We're almost as high as the roof of the church (Eendrachtskerk).
All the teams met at 17:00. We compared our routes. One team had been going round in circles. Another team zigzagged out of the centre and ended up on the other side of the river. They had to take a streetcar to get back. Everyone enjoyed the experience and everyone was surprised about the discoveries that we had made:
"Look what we found!"
"Did you see the lions?"
"It's difficult to remember where you are in the algorithm."
"Wow, you walked far!"
"Did you have time for coffee?"
"What did you do at a dead end?"
"Where's team #4? Are they still walking?"
It felt like we had walked an unknown city.
Personally I found this algorithmic drift a huge success. I never expected that an ordinary walk could feel so adventurous.
I thought I knew the area but I discovered a lot of new things. Without the algorithm I would never have taken such a circuitous route and would have missed a lot of details. And a two-person teams intensifies the experience. Each team-member notices different things and it's interesting to share the impressions.
It would be interesting to repeat the expedition in a really boring and monotonous part of town. Would it become more exciting?
On an ideal grid the walker would go round in circles. But in a "random" grid the walker will follow a more curved path. I haven't tried to prove that every combination of left and right will lead to repeating routes, but I think it's likely. Maybe there is some fancy mathematics involved - maybe random walks or group-theory ?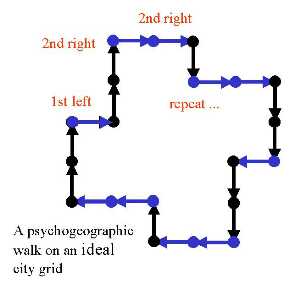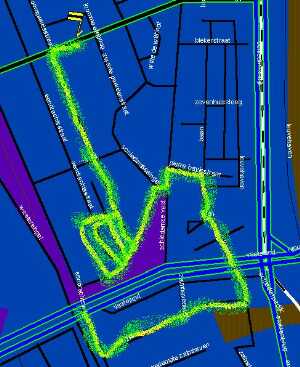 The algorithmic drift in theory and in practice. The flag is the starting point.
I have formulated the following conjectures:
On a regular cartesian grid:

Any algorithm with an equal number of left- and right-turns will make progress
Any algorithm with an unequal number of lefts and right will go around in circles

On a random city grid:

If you increase the distance between turns (go 4th left instead of 2d left) the number of dead ends will increase
If you decrease the distance between turns (go 2nd left instead of 4th left) you will make less progress and will end up in the same place more often.
I have found an elegant proof of all these conjectures but there is not enough space on this webpage to describe them fully them.
---
Back to: Urban Adventure Home
© 2001 Petr Kazil - 12 November 2001 - Do you know more about psychogeography, mental mapping and random walks ? Mail me at (obfuscated) kazil a.t euronet d.o.t nl