New artificial route - Boompjes - Opened in 1997
---
A long and technically difficult horizontal traverse along the quay wall near the Willemsbrug. Jan used his modified "HILTI 10A" battery-powered hand-drill to put up the route in the hard granite wall and in the concrete.

Jan used everything you can think of in this route: friends, hooks, copperheads, rope-ladders (etriers) and he opened the route in rope-solo technique.

This is one of the PETZL-hooks he put in the overhanging part under the stairs. The police heard him drilling but did not catch him in the act. They said: "What would you say if someone did that in your living room?". Jan answered: "I wish I could climb like this in my living room".
Impressions from the TV-recordings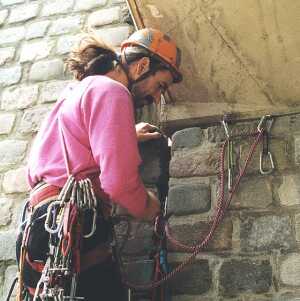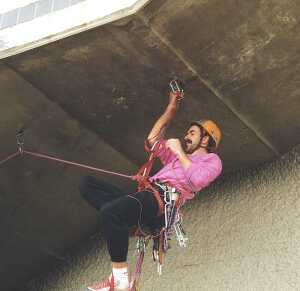 Jan van der Meulen is climbing the artificial route under the Willemsbrug. I am securing him, and the camera team is filming.
The route is illegal. The hooks have been drilled into municipal property.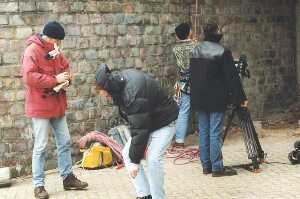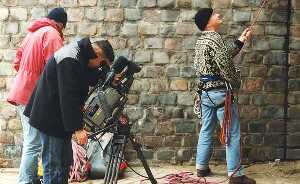 ---
Go to: JvdM buildering, Home
© 1998 Petr Kazil - 2 October 1998