| | |
| --- | --- |
| | Urban and Adventurous Artists |
| | | | |
| --- | --- | --- | --- |
| This page: | Part 1 of the list: | Part 2 of the list: | Part 3 of the list: |
| | | | |
| | |
| --- | --- |
| - | 30 January 2005 - more than 50 new items here - there are more than 300 items in part 1, part 2 and part 3. |
______________ Chaos _ great and small __________
1995 – The German art collective p.t.t. red glued 25 cent pieces to the plaster of Wall Street in New York. Using polaroids and video footage they documented how (presumably rich) bankers and brokers tried to pick up the coins – often in vain. Some homeless people were more persistent and they used a hammer and chisel to acquire the coins.
1996 - Maurizio Cattelan organized an actual break-in of the private Amsterdam gallery located opposite the Appel foundation, exhibiting in the latter te products of his theft. (Another fucking readymade, 1996)
1996 - Wolfram Kastner and seven citizens of Salzburg took position in the local cemetery in front of the war memorial. They carried banners saying "we honour the deserters". This artistic action (called "visual disturbance") had not been authorized. The artist finds it idiotic that on all-saints day a public remembrance service for fallen SS comrades is allowed by the authorities. The action of the artist was penalized by a fine of 2200 Austrian Schillings or two days in prison. Wolfram Kastner has decided to sit two days in prison on the same days that the SS remembrance service takes place.
| | |
| --- | --- |
| 1997 - Maurizio Cattelan, ditch, earth – installation at Le Consortium, Dijon, France (Untitled) | |
2002 - The police seized eleven swastika sausages ("Hakenwurst") on the flea market at the Boxhagener Platz. Berlin artist M. Petersen is surprised that he has been arrested now, because he has been selling his sausages since 2001. Vacuum packaged mortadella with an embedded swastika symbol, "guaranteed to be inedible" and available in two tastes: "fascist pig" and "fascist cow". The enclosed note says "art, handle with care". Petersen says he tries to come into contact with other citizens and that he is successful. He does not see a danger that his art could be misunderstood. He regards his swastika sausages as a subversive strategy and not as a cheap provocation. He has claimed damages of 1.150 euro for the confiscated artworks.
| | |
| --- | --- |
| 2003 - Jeroen Jongeleen marked several art books in the Rotterdam library using a rubber stamp depicting a fingerprint. | |
| | |
| --- | --- |
| 2003 - An Austrian artist has staged an anti-war protest by parking three cars with controversial slogans in Vienna. Poeter Siegl parked a red Ford Mustang for George W Bush, a white Rolls Royce for Tony Blair and a hearse for Saddam Hussein. - The cars are offered as "head money" for anyone who "brings the balls" of the politicians to Vienna. They bear similar slogans, saying: "The first who brings the balls of George W Bush / Tony Blair / Saddam Hussein wins this car." (Car Wars) http://reflex.at/~citybiker/carwars/ http://www.poeter.at/ds41.htm http://www.ananova.com/news/story/sm_766386.html | |
| | |
| --- | --- |
| 2004 - An anonymous individual has stamped 5 euro bills with a picture of Adolf Hitler and put them in circulation. The first - and possibly only - bill was found in the Dutch city of Den Bosch. | |
_____________ Creative destruction ______________
| | |
| --- | --- |
| 1992 - Maurizio Cattelan combed the classified ads in search of safes belonging to burglarized institutions or individuals. Then he exhibited these damaged safes such as he found them. (76400000) | |
| | | | |
| --- | --- | --- | --- |
| 1992 - Dutch artist Dick Raaijmakers destroyed twelve microphones by cooking, crushing, burning etc. The goal of the experiment was to demonstrate that a microphone can never be a musical instrument. (V2 - Intona: dodici manieri di far tacere un microfono) | | | |
| | | |
| --- | --- | --- |
| 2000 ? - Dutch artist Dick Raaijmakers destroyed a series of cuture-related objects to demonstrate that sound and vision are only tenuously related. (V2 - Beeld Streepje Geluid) | | |
2002 - Berlin artist Klaus Weber is cultivating the enormously strong mushrooms "Agaricus bitorquis" (Trottoirchampignons). These mushrooms can make holes in asphalt road surfaces. An open space behind the Mendelssohnstrasse was asphalted and spores of the mushroom (that can lift six kilograms) were seeded under the surface. Already the first mushrooms are beginning to surface.The artist was assisted by the Mushroom Research Group of Berlin Brandenburg. They found the initial mushroom and collected the spores on a sheet paper. The spores were placed in a nutritive solution, in which the white slimy mycelium could grow. Then the mycelium could grow further in boiled wheat grains. The infected grains were planted in boreholes in the asphalt in September. The mature mushrooms will be harvested and eaten.
__________ Political action and resistance __________
2003 – Wolfram Kastner distributed tickets for Munich's air-raid bunkers. He wanted to emphasize that Munich has more than a million inhabitants, but that the 30 public shelters can house only 37.000 persons.
2003 - Wolfram Kastner sprayed the slogan 'Judensau' (Jewish Pig) on the façade of the Sebaldus Cathedral in Nuremberg. The artist protests against a figurative representation on the church wall, which shows a sow and a Jew underneath sucking from its tits. The monument is a 14th Century caricature of the Jewish population. Kastner wants the church to place a sign explaining the meaning of the sculpture and a statement by the church on its meaning.
_____________ Danger and endurance _____________
| | | |
| --- | --- | --- |
| 1978 – Cologne artist Parzival (Frank Poersch) realized that he rode the same underground line several times each day. In the long run these rides became a boring monotonous ritual. | "One day I decided to turn this boredom into a performance: A full work-day (eight hours) of underground driving, on this one line. Maybe this conscious experiencing of monotony would lead to a feeling of "ecstatically increased commonplaceness". I planned my action for 8 February 1978 and announced it by distributing leaflets in the workshops. A friend and a fellow student, Thomas F. Fischer, joined me and rode along for eight hours. | From time to time we took a coffee break at a kiosk or in the "McDonald's" at the Barbarossaplatz. The toilet of the "McDonald's" restaurant had a sober, white tiling and a cold neon light. "That is a place in Andy Warhol style", said Fischer. "A completely impersonal place, banal, sad, casual and interchangeable." |
1992 – Maurizio Cattelan: The night before the opening I let myself down from the windows and ran away. - The work presented was a makeshift ladder made of sheets knotted together and hanging down the facade of the exhibition building. (Flee the Castello de Rivara)
| | |
| --- | --- |
| 1999 - Maurizio Cattelan, attached his gallerist, Massimo de Carlo, to the wall of his gallery using adhesive tape. (Massimo de Carlo Gallery in Milan - A perfect day) | |
2001 – Early in the morning, the Austrian art group "Gelatin" removed a window on the 91st floor of the World Trade Center and slid out a tiny balcony. For 20 minutes the artists posed on it while a helicopter flew by and took their photographs. The action was illegal, had been prepared in total secrecy and the balcony was built from smuggled building materials. The home-made balcony emerged like a 'pimple on the buildings eelslippery face.' However, personnel of the WTC deny that the action ever took place and states that any documentation must have been faked. (The B thing)
http://www.artbook.com/3883755079.html
http://www.t0.or.at/~bebe/catalog/wtc/
19?? - Karen Finley's work has included smearing her naked body with chocolate and inviting audience members to lick it off.
| | | |
| --- | --- | --- |
| 2002 – The Austrian artist group produced "Nellanutella" as part of their contribution for the Venice Biennale. The artist threw themselves repeatedly into Venice's canals from café tables, bridges and boats. A 81 page book with their slapstick performances is available. http://www.t0.or.at/~bebe/catalog/nutella/ | | |
______ Infiltration - of public and private spaces ______
-----
______________ Deserted buildings ______________
| | | |
| --- | --- | --- |
| 2004 - Dutch artist Florentijn Hofman made a surreal blue artwork from several buildings that are waiting to be demolished. (Beukelsdijk, Rotterdam) | | |
________ Explosives, pyrotechnics and guns ________
| | | | |
| --- | --- | --- | --- |
| 1993 - Dutch artist Erik Hobijn built an apparatus where a person is first covered in a fire repellant gel. Then the person is set alight and then extinguished after a few seconds. (V2 - Delusions of Self-immolation) | | | |
| | | |
| --- | --- | --- |
| 1995 - On 10 May 1933 the Nazis burnt approximately 50.000 books that were considered un-German. This took place on the Königsplatz in Munich. Nowadays nothing remains of this historic moment. Not the smallest sign has been placed. On 9 November 1995 (the anniversary of the so-called "Kristallnacht") artist Wolfram Kastner burnt a large hole in the lawn and placed a sign with a text in German and English. The city was asked not to let "grass grow over history". In 2002 the artist burnt a fresh hole in the lawn. http://www.wolframkastner.kulturserver.de/ | | |
_________________ High Tech _________________
-----
_________________ Expeditions _________________
| | |
| --- | --- |
| 1971 - On high sea, midway between Ireland and Canada, Dutch artist Ger van Elk painted a block of wood white. It is displayed on a red velevet cushion inside a nice case. "This is probably the most dust-free environment on the whole planet." (La Pièce). A documentary film is also part of the work. | |
| | |
| --- | --- |
| 1978 – Cologne artist Parzival (Frank Poersch) investigated the "cultural and culinary underground" of Cologne. On Bonn Street we found a "schnellimbiss" (snack corner), that had changed owners several times but none of the new tenants took the trouble to remove the old nameplates. Thus the lunch was called "Witwe Boltes Hähnchengrill", "Bradley's Imbiss" und "Taverne Athena" at the same time. Above the bar it had a large dark sauce-stain and each time we and I visited it we speculated how violently one must have shaken the container to produce a stain at this height. At the Zülpicher Platz we found a grill that still had it's original fifties furnishings. | We designed an alternative city-tour and called it "Andy's travel office". The tour went along cheap gambling halls with 20-year old pinball machines, the taxi-driver's grill at the Hohenzollernbruecke, the factory ruins in the suburbs,and finally the addresses of the local VIP's ("Visit the homes of the starts") and the Weidengasse with it's mix of garbage shops, Turkish kebab-restaurants and potato-pancake stands. |
| | | |
| --- | --- | --- |
| 2003 - An unusual person (artist Christian Hasucha calls him "The Stranger") will visit Neuhausen in March. His head is covered in a white cocoon with tiny holes. His hands are encapsulated in hard white shells. The Stranger can hear and see, but he cannot speak and cannot communicate by signs or gestures. The stranger knows neither the city of Neuhausen nor its inhabitants. He comes not as a tourist, but will try to participate in all facets of everyday life. He is anxious to be invited by citizens of Neuhausen and to accompany them on their daily routines. | | |
__________ Urban garbage __________
1960 - Arman, "Manifestation of Garbage" exhibition at the Iris Clert gallery in Paris.
| | | | |
| --- | --- | --- | --- |
| 1961 - Manzoni began to produce his series of Fiato d'artista and Merda d'artista (Artist's breath and Artist's shit) and planned also to create containers of Sangue d'artista (Artist's blood). After producing 90 cans of Merda d'artista "contents 30 grams net weight, naturally preserved, made in Italy" calculated their value with the daily exchange rates for gold. The Tate Gallery recently paid 35.900 euro for one of the tins, numbered 004. It will certainly rise in value. Of the 90 tins that were filled in 1991 only 45 remain. The rest have exploded because of internal fermentation – like Manzoni intended. | | | |
1993 - Shit and Art - Special Issue of the Art Journal on scatological art, Vol. 52, No. 3, 1993
1994 - Maurizio Cattelan made two piles of sacks of demolition rubble wrapped in a sheet of transparent plastic. Each of the two piles is set on top of a construction pallet. The material came from three buildings damaged by Mafia bomb attacks: the Padiglione d'Arte Contemporanea in Milan, the Uffizi in Florence and a church in Rome. (Lullaby)
___________________ Innovative graffiti, stickers etc. _________________
| | |
| --- | --- |
| 1992 > Cologne artists Parzival (Frank Poersch) has been nailing wooden boards and planks over billboards in Berlin since 1992. He was inspired by a visit to the Brazilian "Favelas", the infamous slum areas with improvised wooden dwellings. After his return Parzival began to nail wooden signs of poverty (garbage, broken crate parts and other discarded items) over the emblems of affluence and consumer intoxication. The Favela inhabitants collect wood on the road out of necessity, the European artist collects it to silence the lies of the advertisement industry. He has been arrested three times but each time the prosecution was dropped. In ten years Parzival has made 110-120 nailings in Berlin, Cologne, Leipzig, Kassel, Bonn, Frankfurt, Mainz and Duesseldorf. "An advertising company has stated that each billboard attracts 50,000 eye contacts. Therefore I have attracted about 5 million glances. A beautiful result for an artist". | |
| | |
| --- | --- |
| 1994 - Christian Hasucha - In the morning of 9 April 1994 Matthias S. put on a belt with a container filled with light-grey printing ink and walked out his front door. The tube connecting the container with the printing-stick hung down along his leg. A whole day long he would carry the equipment with him and would mark his movement throughout the city. Off he went … (Der 9. April am rechten Fuß des Mathias S. ) - http://www.hasucha.de/intervention_19/dokumentation.html | |
1995/96 - Stefan Micheel and HS Winkler (group p.t.t. red) received a Berling art grant to stay one year in New York. The grant money they received was exchanged for bills and each dollar bill was stamped with the phrase : "p.t.t red dollar – money for cultural purposes" and subsequently put into circulation. Genuine money was enriched artistically, but it kept its value, it did not become a work of art, but remained viable currency, until the American Bank took would withdraw it from circulation.
| | |
| --- | --- |
| 1999 - On 7 November 1999 (on the occasion of the 60th anniversary of the assassination attempt of George Elser on the Nazi leadership) Wolfram Kastner sprayed a statement by Elser from his interrogation with the Gestapo on the plaster of Munich: "I wanted to prevent even more bloodshed." Subsequently he sprayed the name "Elser" on the black memorial stone in front of the State Chancellery. He was punished by a fine of 500 DM and the cost of cleaning the inscription. http://www.t0.or.at/rueckgabe/strafverf.htm | |
2000 - Heath Bunting writes: The perfect project for me is walking down the street, looking at something, having an idea and having it finished by the evening. Like the X project, it's just a graffiti project. I would graffiti a URL, and if people were interested and saw it and noted it down and visited that site, it would ask them where they saw it, who they thought did it and why and it would keep a log of that information. So it's a log of my travels and of what people think of graffiti. I think that's my favourite project, it's very, very simple but it's going five years now. http://irational.org/climbing/rotterdam/
__________ Installations, improvements, decorations __________
| | |
| --- | --- |
| 1966 - Yaoi Kusama created an installation at the 33d Biennale using 1500 mirror balls. Her attempt to sell them for 2 dollar each met with strong objection from the Biennale authorities. (Narcissus garden, installation at the Venice Bienale) http://www.yayoi-kusama.jp/ | |
1993 - Christian Hasucha - Small iron platforms were constructed for the 50 participants of "Intervention P". An anonymous group of actors were selected by sending out invitation letters and reply forms. The platforms are installed at a height of 20cm on individually selected lampposts. Participants can use the platforms for a limited time period. (P)
| | |
| --- | --- |
| 2001 - Doug Fishbone installed a gigantic mountain of bananas - well over a ton of them - in the historic town square in Piotrkow Trybunalski in Poland. The work, which was eaten by the crowd in minutes, was meant as a commentary on greed, globalization, consumerism and violence. The same installation has been shown in Latin America in 1999 and 2000 and in New York in 2002. http://www.wizya.net/em/doug2001.htm | |
| | | |
| --- | --- | --- |
| 2001 > Winfried Baumann has designed shelters for homeless people and other urban nomads. "Instant Housings" are mobile living spaces designed for the special situation of its users. They are space-saving, mobile and manageable by a single person. "Instant Housings" are mainly meant as sleeping places, but they are also always art. http://www.winfried-baumann.de/instant_housing/index.html | | |
2002 - Berlin artist Hans Winkler transported 600 tins of Ravioli (Italian pasta product) from a German supermarket to Tuscany (in Italy) and he used the 600 tins to build a wall in the library of Manciano. Winkler was inspired by the German camping tourists who usually take along their own food for their Italian vacation.
2003 - A homeless person sleeping behind the Royal Library in The Hague has made an ornamental garden that is planted with weeds, potatoes and tomatoes. There have been a few more of his works - in the shape of a circle or a heart.
__________ Poetry, theatre and intensified perception of place __________
| | | | |
| --- | --- | --- | --- |
| 1956 - Manzoni drew lines of various lengths enclosed in black cardboard boxes, each bearing a label indicating the date and length of the lines – which range from 1.76 to 140 meters to, finally, infinity as in the Linea di lunghezza infinita (Line of infinite length) in 1960. During his stay at Herning, Manzoni executed a line of 7.200 meters long at a newspaper mill on the afternoon of 4 july between 4 and 6:55 p.m. The line was enclosed in a lead cylinder made up of square plates. | | | |
| | |
| --- | --- |
| 1993 - Christian Hasucha - 1) Ten residents of St. Petersburg - participants in the intervention - select surveyable areas in the residential area of their city. 2) White-painted steel stools are permanently installed in convenient locations. 3) Sitting on the stools, the participants note the daily events that they observe. 4) A week later facsimiles of the notes are fastened to fences, masts, trees and walls within view of the described area. 5) The stools remain in place. (Public Diary) | |
| | | |
| --- | --- | --- |
| 1993 - Christian Hasucha - In a snack bar in the city of Langenhagen the iron foot of the one standing table is embedded in the floor. The tabletop levelled into a precise horizontal position. A black-and-white tape marks the circumference of this round table. Professional surveyors mark this height on all the lampposts of the city. Even in remote areas of the city pedestrians are confronted with this plane of reference / standard elevation. (Ebene Tisch) http://www.hasucha.de/intervention_18/dokumentation.html | | |
| | | | |
| --- | --- | --- | --- |
| 1993 - Dutch artist Henk Visch erected a surreal bronze monument to the last gas station. "A momument for the time when there will be no cars anymore and we will all be walking along the highway. Then people will wonder what this building was all about." (Monument for a gas station, Located between Barneveld and Ede, A30 highway, East of kilometer marker nr. 18) | | | |
| | | |
| --- | --- | --- |
| 1994 - Christian Hasucha - Responding to an intensive invitation campaign, 76 citizens of Dortmund selected a section of their daily walk; approximately 20 steps long. The endpoints of these sections were marked and numbered. The names and positions of the road sections were published on posters. (Wege) http://www.hasucha.de/intervention_20/dokumentation.html | | |
1995 – Chris Wilder produced a partial reprint of "Project Blue Book", the U.S. Air Force investigation into sightings of UFO's. Out of three thousand photographs included in the project, Wilder has selected twelve. These range from the vaguely plausible, to the obviously preposterous, including a photograph of a shaved monkey presented to the military as evidence of alien life.
19?? - Cologne artist Parzival (Frank Poersch) felt inspired by an urgent need. Being severely inebriated the artist relieved himself in a Cologne shopping street and afterwards he made a photographic documentation called " Kölner Pissecken" (Cologne pissing corners). For this project the artist used a grant provided by the SPD / Green political parties (1,500 DM) which was meant to document "Cologne favorite places".
__________ Unclassified but urban and interesting __________
1969 - James Turrell and Sam Francis make a series of airborne works with clouds and aeroplanes over Pasadena, California
1986 - Lothar Baumgarten, "Vacuum" at the Carnegie Museum of Art
1992 - Maurizio Cattelan collected $10.000 from one hundred people to be given to an artist who would agree to abstain from exhibiting his/her work for one year. When the selected recipients refused to accept the grant, Cattelan took the money and ran to New York. (Oblomow Foundation)
1993 - Maurizio Cattelan sold his exhibition space at the Venice Bienale to an ad agency (Lavorare e un bruto mestiere).
1993 – Aernout Mik created a "living installation" for a space in the modern conference center La Vie in Utrecht. While the entire building was buzzing with activities, in classrooms and meeting rooms, in a small room on the fifth floor a number of people lay asleep on beds in the semi darkness. Complete silence prevailed. Only the quiet regular breathing of those asleep could be heard.
| | |
| --- | --- |
| 1993 - In a self-portrait Douglas Gordon poses in the middle of a deserted motorway. He is holding a sign reading "psycho." Don't fancy his chances of getting a ride. | |
1995 – In room 208 of the Stedelijk Museum Aernout Mik has arranged a group of museum guards. Some are real people, others are dummies clothed in the guard's uniforms. They are "indistinct figures" and their personalities are flattened by their uniform appearance and reticent behavior that is prescribed by the museum rules. Due to the likeness of the static (dummy) and living figures a strong sense of suspense arises, and one's view of the guards in the museum is changed.
---
---
| | |
| --- | --- |
| 1999 - The Dutch topographic service paints black and white reference points on roads. These are used as callibration points for aerial photography. Jeroen Jongeleen added a series of "illegal" markers to their existing system, in an suggestive attempt to create friction in their work of measuring the land. (100 meetpunten, location: Hoek van Holland, NL). | |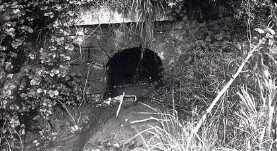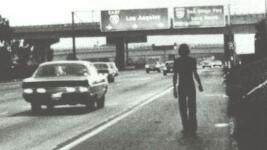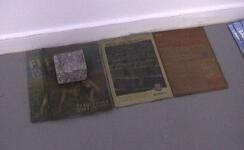 Check out this related site by Matthew Hunt: CENSORSHIP - Obscenity, violence, and profanity in cinema, art, photography, performance art: http://members.tripod.co.uk/mathunt/censorship.html
---
Copyright issues
I always try to obtain permission to use the pictures. But sometimes the webmaster or owner of the website are unreachable. Sometimes the webmaster doesn't know the address of the artist or photographer. Sometimes the artist doesn't answer my mail. Sometimes the source of the picture is unknown. Contact me if you object to the use of your picture or text and it will be changed or removed promptly (or a copyright notice will be added, or a web-link, whatever you like) - (kazil a.t euronet d.o.t nl)
---
Back to: Urban Adventure in Rotterdam